WEALTH
Understand investing. Harness its power.

The not-so-secret secret of the wealthy?
INVESTING.
Investing and managing your retirement account are not rocket science, I promise! It's time to learn how investing works so you can harness the power of compound interest to plan for retirement and other major money goals.

PICTURE THIS...
Feeling excited about investing.
Setting clear investing and retirement goals.
Knowing the difference between index funds and ETFs.
Contributing to your 401(k) or IRA with confidence.
Understanding your account statements.
Trusting you're doing the right things for your future.
YOU CAN. HERE'S HOW: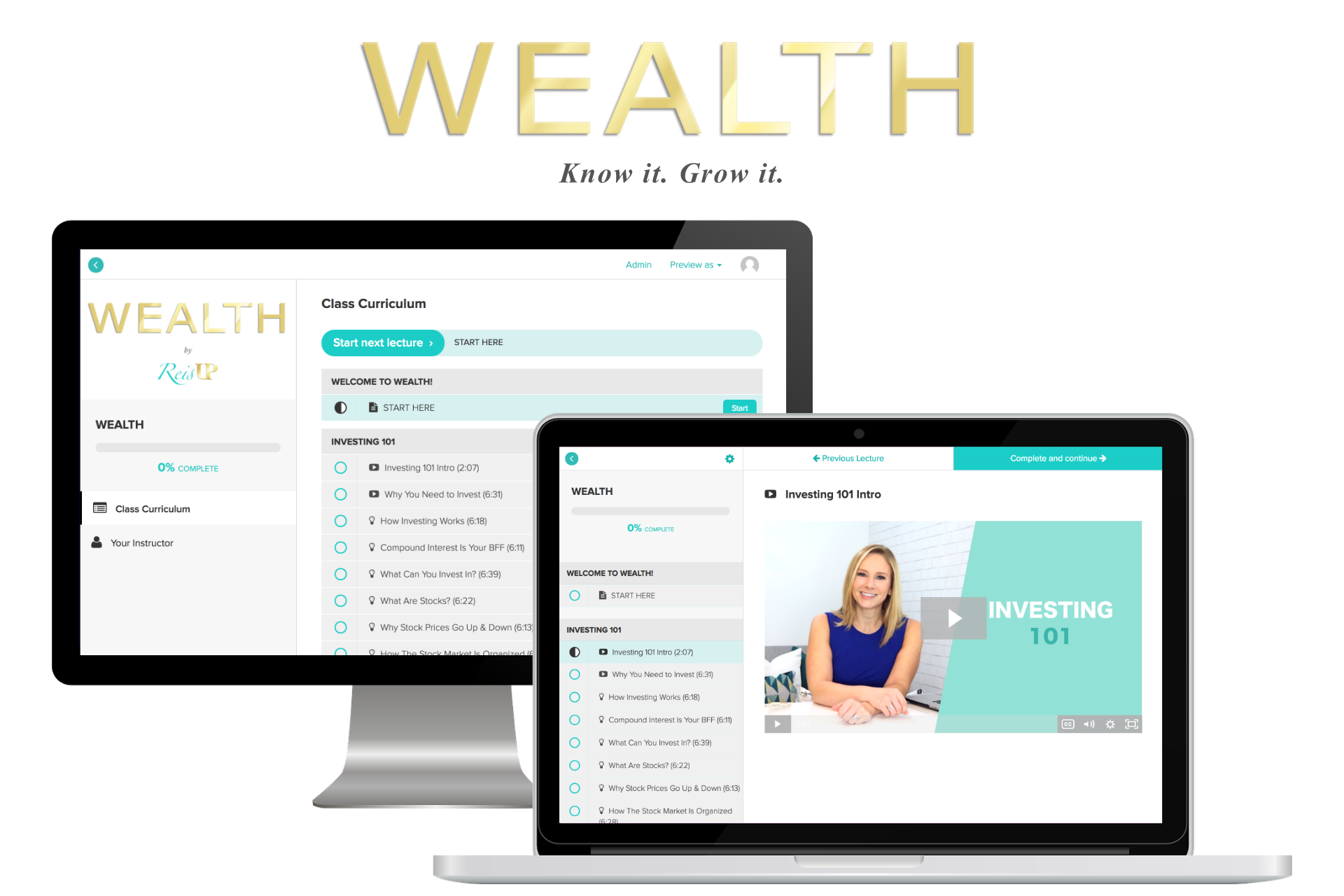 ---
Note: Everything in this course is also in my MONEY course! If you'd like additional trainings on a wider range of topics, you can get an even better deal there. But if you're just looking for help with investing + retirement, WEALTH is all you need!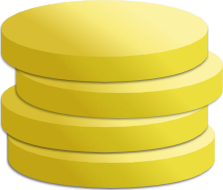 WHAT IS WEALTH?

WEALTH contains just the Investing 101 and Rock Retirement modules from my full MONEY program. It is a comprehensive, video-based investing and retirement course for beginners that gives you an overview of the investment universe and holds your hand through the retirement planning process.
WEALTH teaches you investing basics, including how investing works and how you can take advantage of it to #securethebag for your financial future. This course also explains how retirement accounts like 401(k)s, 403(b)s, TSP, and IRAs work, and helps you calculate how much money you'll need to retire.
After completing WEALTH, you'll know how much to save for retirement every year and have a clear strategy for investing the money in your accounts. No more guessing or relying on one-size-fits-all rules of thumb.
WHAT IS WEALTH NOT?


WEALTH is not an intermediate or advanced investing course. You won't learn how to pick individual stocks, buy or sell options, or invest in cryptocurrencies here. This course is not a "get rich quick" scheme.
Instead, WEALTH teaches you how to use long-term, buy-and-hold investment principles to achieve your big financial dreams.
WEALTH VS. MONEY?

WEALTH contains just the Investing 101 and Rock Retirement modules from my full MONEY program.
In a nutshell, when you buy MONEY, you get all of this content along with the other 5 modules. Or you can just buy the Investing and Retirement modules alone here through WEALTH.

WEALTH is the investing and retirement planning course that none of us got and all of us need.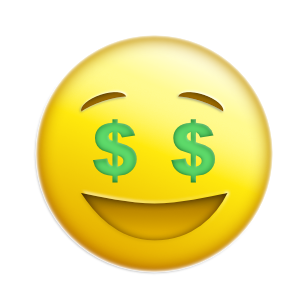 "Now I'm a little budding investor!"
- Maggie
What are you waiting for?


I'M TARA FALCONE, CFA, CFP®
A Main-Street-born, Wall-Street-bred money guru.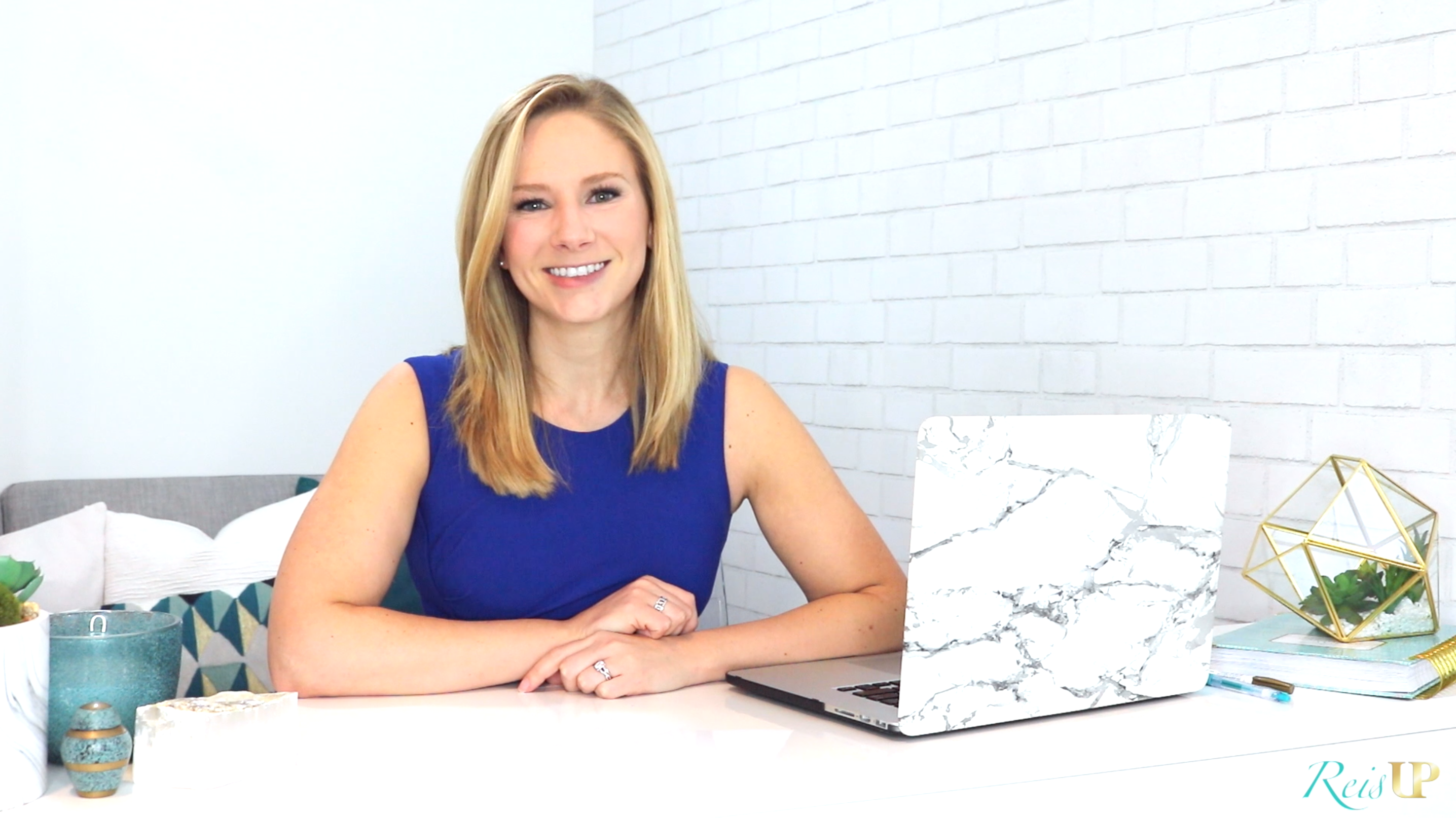 Investing used to feel like a foreign language.
Growing up, I thought investing was something that only really wealthy people did, and I couldn't see how I - a young, broke midwestern girl - would ever fit into the stock market universe.

I was hungry, though... Hungry to understand how to manage money and make it grow. So I got a job on Wall Street to learn from the pros. As I sunk my teeth into my work, I fell in love with investing. It was a universe I had never been exposed to before, and it fascinated me. I never knew that you can use your money to make more money; I always thought you had to trade your time for dollars, and that your income was limited by the amount of hours you could work. Boy was I wrong.
Over time, I realized that investing isn't a foreign language or rocket science... It's an incredibly powerful tool that we all have in our money toolboxes. You just need someone to show you how to use it in digestible, easy-to-understand terms.
That's why I founded ReisUP and created WEALTH, to help everyday individuals like you learn how to invest and plan for your financial future. Viewing myself as an investor has truly transformed my world view and money, and I know it can do the same for you.
WHAT'S INCLUDED

Here's everything you'll get instant access to once you enroll:


CONTENT
2 comprehensive modules containing over 25 high quality, live-action videos (that's over 2.5 hours of content!)

Anecdotal, relatable lessons with clear, actionable takeaways




TOOLS
Numerous customizable tools, spreadsheets, and calculators to help you set clear investing targets and nest egg goals for retirement

RESOURCES

Carefully curated lists of today's top resources, including apps, podcasts, and books to check out, as well products and services available to help you put your new knowledge into investment action

An Answer Fund for each module, offering answers to the most Frequently Asked Questions on those topic

ACCESS
By purchasing WEALTH, you get access to me as the instructor. That's right!

Post questions / comments in the (public) Discussion section below certain videos, or email me with specific questions. I'm here for you!
WHO THIS COURSE IS FOR

This course is for people who feel like they've got most of their financial life figured out, and therefore don't need my full MONEY course. However, they would like a bit more guidance when it comes to investing and retirement. Since WEALTH includes only the last two modules - Investing 101 and Rock Retirement - of the full MONEY course, it's perfect for them. Just what they need and nothing more.
WEALTH students are smart, determined people who want to be successful at investing, but need someone to show them how. They're tired of feeling intimidated by stock market jargon, following one-size-fits-all rules of thumb, and hoping they're saving and investing enough for retirement.
WEALTH students are not afraid of rolling up their sleeves to face new challenges. They're ready to learn investing basics, let compound interest do some of the work for them, and start planning for their financial future with intention.
If you fit that description, then WEALTH will give you the information required to invest with confidence. It will give you the tools and step-by-step methods you need to create a custom investing and retirement plan to achieve your large, long-term financial goals.
WHO THIS COURSE IS NOT FOR


You should not purchase WEALTH if you think investing is too risky and only for the rich. (Newsflash: You can start investing with as little as $1!) This course is not for you if you'd rather spend first, then save whatever's left for the future. It's not for you if you aren't willing to learn the basics yourself, and would rather pay a financial advisor tons of money to manage your accounts for you.
In a nutshell, if you aren't open to the possibilities of investing and learning how to use it as a tool, you should not buy this course.
PS. You should also not enroll in WEALTH if you've already purchased MONEY! The content here is already included in the full MONEY program.
Your big picture goals are unique, so why would you rely on one-size-fits-all rules of thumb to invest and plan for retirement? Get WEALTH and create a custom plan for your future.
LET'S TALK VALUE...

If you're thinking "This course would be a big investment for me", and wondering whether it's worth the price, here are some stats to put things into perspective:

HIRING A FINANCIAL PLANNER
Working with a credentialed financial advisor will generally cost you anywhere from a few hundred dollars to thousands of dollars, depending on your needs and how he/she is compensated. Most fee-only financial planners charge $200-$400 per hour, or $1000-$4000 (or more!) to create a custom, comprehensive financial plan.

And what I've found is that a decent chunk of a planner's time is spent educating clients on the whys and hows of various financial topics.
With WEALTH, you get:

VALUE YOU COULD SAVE & EARN
The concepts I teach in this course could save you hundreds to thousands of dollars (in some cases, immediately!).
And the systems I show you - especially when it comes to creating a plan to invest and save for retirement - could generate tens to hundreds of thousands of dollars more for you over time.
All of that means more money in your pocket, and ultimately more freedom with your time and finances.
COURSE PREVIEW

(Note: This course contains just the Investing and Retirement modules from MONEY.)
Here's a sneak peek of what you'll learn in each of the modules:

INVESTING 101
Investing is my JAM. Stocks, bonds, ETFs... You name it, I dig it. In this module, I break it all down so that you - yes, YOU - can be an investor too! We'll talk about WHY you need to invest and how investing works. You'll also learn about what you can invest in, including what stocks are and why their prices go up and down, and how to start investing the right way.

ROCK RETIREMENT
Ahh, retirement. That thing that feels so far away, yet requires so much planning NOW to do it right. Don't worry - In this course, you'll learn how to calculate the nest egg size you'll need for work to be optional. Then, you'll discover how much you should save every month and year in your 401(k), 403(b), TSP, and/or IRA. Finally, we'll go over how to invest that money to make sure current you is taking care of future you.
Frequently Asked Questions
When does the course start and finish?
WEALTH is a self-paced investing and retirement course, so you define the start and the end. The only deadline is your own motivation to complete the content and put the info into action!
How long do I have access to this course?
WEALTH is meant to grow with you as plans for your financial future evolve, so you'll have access to this course for as long as it exists.
Do you offer any refunds or guarantees?
Your satisfaction and success are very important to us, which is why we offer a 30-day refund policy for our programs (see below). Please note that your eligibility for a refund is conditional based on your efforts.
I bought the MONEY course. Should I buy WEALTH too?
Nope! The modules in WEALTH are included in MONEY, so if you've already bought that course, there's no new material here.
Will this course eliminate the need to hire a financial advisor?
That depends... I designed WEALTH to be a DIY investing and retirement course. So if you've got a relatively "normal" financial situation, then WEALTH should give you the info and tools required to create a DIY plan for your financial future. (Or at least the knowledge and vocabulary you need to have a much more productive conversation with a financial advisor.) [Disclaimer] However, all of the information in this course is meant to be for educational purposes only and should not be considered specific legal, tax, or investment advice. For unique circumstances, consult a professional.
Can't I just find this information for free online?
You can find just about anything online these days… Here are two main issues I discovered that led me to create this course: (1) Most of the content online is very disjointed and inconsistent. For example, you might read an article on one site about stocks then watch a video somewhere else about 401(k)s, but without a step-by-step curriculum to connect the dots for you, it's hard to know how those concepts relate to each other (sound familiar?). WEALTH walks you through major money topics and bridges those gaps for you. (2) A lot of the content out there is written by people who aren't true finance professionals. Sure, they can rattle off rules of thumb for investing and retirement, but they usually can't offer more detail or solutions to fit your specific situation.
What if I don't live in the US?
Honestly, while fundamental investing concepts are universal, enough of the content in WEALTH is US-specific (for example, certain investment options and retirement concepts), that I wouldn't recommend this course for international citizens, unless they're living / studying / working in the US.
Will the course content be updated?
Yep! Any information that changes annually (like retirement limits), will be updated each year. I'll also be adding some videos over time to cover things like how to invest in 529 plans for your child's education and more.
Can a company / organization purchase access for its employees?
Absolutely. If your company would like to implement a corporate financial wellness program, you can purchase access to WEALTH for some or all of your employees. We can also create a co-branded, private portal for your organization, including custom videos about your company's unique retirement plan. Please email
[email protected]
to explore this option.
Can I buy WEALTH as a gift for someone else?
YES! This course would make an incredible gift. Email
[email protected]
for more info.
AN EXCITING FINANCIAL FUTURE AWAITS.
Join now and learn how to create yours: